Hanging Cosmetic Case or Toiletry Kit (the hanging bag is great to pack with, everything stays in place and it isn't awkward to carry)
Makeup Bag (it looks like a lot but application shouldn't take more than 10 minutes, I can teach how to properly apply makeup)
Foundation (optional, totally up to you, same color as skin)
Powder (pressed same color as skin, *very important*)
Concealer (liquid tube kind 1 shade lighter than skin)
Blush (the color should look like wearer just exercised and remember it looks darker in the compact than it does when applied)
Eye shadow (matches coloring, not the suit)
Eyeliner (anything with some staying power just so it doesn't melt off)
Mascara (black with a straight brush unless red headed then dark brown)
Lipstick (a few shades darker than natural lip color, can complement the suit but a color that goes with skin tone)
Lip Gloss
*****Scroll down for makeup advice and where to find the hanging bags
Makeup Accessories Bag
[a makeup brush kit that comes in its own case is great; best lower priced kits are at Target by Sonia Kashuk, CVS called Essence of Beauty, or Walgreens called Perfection](You can find those brushes separately if you would prefer)
Blush Brush (applies product more naturally than the wimpy ones in the blush compact, shaped fairly full and round, with tapered sides)

Example of a blush brush
Eye shadow Brush (blends better than the applicators that are in the compact, rounded with a long handle is best)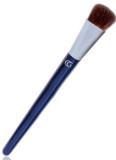 Example of a good eyeshadow brush
Lipstick Brush (only need if lip color comes in a traditional tube, one with a cap, its less messy)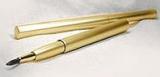 Example of a good lipbrush
Makeup Sponge (for blending foundation, powder, concealer, and blush, egg shaped is best but can be hard to find)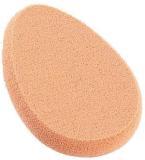 Example of an egg shaped cosmetic sponge
Eye lash curler (opens up eyes and adds polish without adding makeup)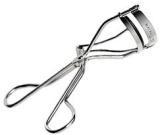 Example of a good eyelash curler
Eyelash comb(great for lashes and grooms brows)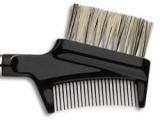 Example of an eyelash comb head
Other Makeup Accessories Bag (could use a clear zip top sandwich bag for these items)
Eye Pencil Sharpener (to keep a point and it helps reduce germs, if needed)
Large Cotton Balls (can replace makeup sponges and they reduce germs because you just toss them, best are the ones located under the makeup brushes at the drug store)
Q-tips (blending eye liner and cleaning up lip lines, cheap brands are the best)
Suit Accessories Bag (could use a clear good quality zip top sandwich bag)(links can be found under Show Rider Accessories)
Number Pins or Magnets (the magnets are great they don't come off, I highly recommend them)
Tie Bars(always good to have more than 1)
Safety Pins(to pin coat and wardrobe emergencies, very important)
Extra Tie Downs a.k.a Underpasses(in case they break, you want to get the shortest ones possible with the forked 2 button holes on each side)
Jod Cuff Straps (to aid in not walking on expensive show pants but these are optional and can be found at habit makers or Hartmeyer.com)
Band-Aids and/or first aid kit (good to have)
Cuff Links (if used)
Hair Accessories (you could just use a clear zip top sandwich bag for these items, everything here can be found at Walgreens or CVS)
Hair Pins (Scunci makes the best, comes with 2 pairs of thick pins and you want brown no black unless you have black hair, if you cant find them please let me know)
Scunci brand hair pins. More durable then Goody.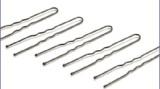 Hair Nets (the best kind have small holes to contain hair better, Scunci, Essence of Beauty (CVS brand) and beauty supply stores would be your best bet)(Goody should be last choice)
Scunci brand has smaller holes so less fly aways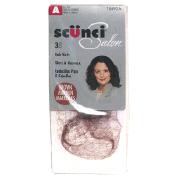 and the elastics are tighter.
Hair Ties (good quality to hold hair tight)
Hair Barrette (large enough hold all hair, can find at craft stores)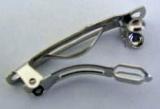 Hair Brush(something flat and/or cushioned so Maria can brush and tease hair, please no combs)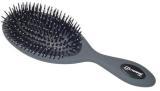 Contour clips (optional, help hold hair nets in place)

Large Bobby Pins (for pinning hat, they work the best)
Hair Spray (maximum hold or spray gel)
Hair Bows [as many as you would like that matches her suit, flat and have legs and are either Bow's By Brooke, Molly's Bows or Hartmeyer.com(bun bows)]
This is the best style of bow.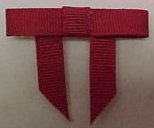 v Pocket Pattern (*for equitation riders only*)(at least 3 copies, printed and laminated, after you and Maria have thought up your pattern you could email it to me and I would be more than happy to get it ready for you)
I recommend every thing here have its own labeled bag or container, just as I have listed it. Trust me it makes life so much easier. I also recommend if makeup is used everyday to store it in the caboodle when traveling so when it is time at the show to get ready, everything needed is right there without having to run to the car, hotel, etc.
Suit (Garment) Bag
(Have wooden or plastic suit hangers to hang the coat and pants, wire hangers from the cleaners are bad for the fabric and leave stretch marks on the shoulders)
Coat
Pants
Shirts (heavy starch, makes cuffs and collar look crisp and neat)
Vests
Ties (bow tie if used)
I recommend putting the suit on the hanger and then place the plastic from the cleaners back on the suit and also leaving the shirts in the plastic and place them in the garment bag to assure they stay clean.
Hat Box (3 tiers, World Champion Horse Equipment (has them for around $80, best price I can find and I've looked all over, with name tag please include name and barn)(links can be found under Show Rider Accessories)
Hat (wrapped in plastic or a silk(ish) scarf (found mine at Wal-Mart for like $5 and it works perfectly) to keep the shape and keep hat clean, wrap it around hat, tie in a knot, have knot sit under hat so it doesn't leave a dent)
Boots (patent leather can be cleaned at the barn with Armor All) (regular leather boots should be shined before the show with shoe polish and elbow grease) all boot bottoms and sides should be brushed with a wet tooth brush and soap if needed.
Gloves (Hartmeyer.com has the kind Maria likes called Contemporary Sensitive Feel Glove, they are longer so you don't have to tape)
Spurs (if used)
Makeup Tips
My philosophy for show makeup is it should enhance natural features. The goal is to avoid the caked on/bright eye shadow/bright blush/red lipstick look that is dated and not flattering. I made this guide to make the shopping experience a little easier. Please refer to the color suggestions. The recommendations are for you to go through your makeup and make sure you have the best colors for your coloring, if you do, great, if not I have given you information to help find the best colors, I'm not saying all needs to be replaced. This part is just so if you do need to add/replace a product you can shop wisely and make sure what you do have is doing the best job for you.
Face Makeup
Foundation, Powder, Concealer- Clinique has great quality products, I recommend Clinique for all of your makeup needs except brushes. They aren't as expensive as most other department brands. The makeup counter ladies are very helpful. (not saying that one needs all of this face makeup)
Blush – powder is best.
Eye Makeup
Mascara – Clinique's Naturally Glossy Mascara in Jet Black is my personal favorite mascara. If you don't want department brands Maybelline Full and Soft darkens lashes for a lower price.
Eye Shadow and Eye Liner – If you don't want to go to the makeup counter at the mall, Almay makes eye shadow and eye liners that work best for your eye color.
Lips
Lipstick and Lip Gloss – I would get lipstick palettes, you can get more bang for your buck.
Where to find hanging cosmetic bags
Baggallini - Black Microfiber Complete Cosmetic Bag - $50
Baggallini - Ripstop Nylon Complete Cosmetic Bag - $40
Travelon Mini Cosmetic Organizer Travel Case - $45
Lewis N. Clark PVC Hanging Toiletry Kit - $16
Ricardo - Beyond a Bag 13" Essentials Organizer - $20 ***(highly recommend)
Hopefully this will make packing and unpacking for horse shows a breeze. Of course whatever else you would like to bring is totally up to you but this list is of the essentials. I know this looks like a lot but when you do have all of this together at a show everything will go so much smoother. It's nicer to be the one to come to the rescue when someone needs something because you have everything then to be the one in need. Please let me know if you need boots polished, gloves cleaned, caboodle organized, etc. at least 2 weeks before the show and I can take care of it for you.
Show Check List
Hanging Cosmetic/Toiletry Kit
Makeup Bag
Foundation (optional)
Powder
Concealer
Blush
Eye shadow
Eyeliner
Mascara
Lipstick
Lip Gloss
Makeup Accessories Bag
Blush Brush
Eye shadow Brush
Lipstick Brush
Makeup Sponge
Eye lash curler
Eyelash comb
Other Makeup Accessories Bag
Eye Pencil Sharpener (optional)
Large Cotton Balls
Q-tips
Suit Accessories Bag
Number Pins or Magnets
Tie Bars
Safety Pins
Extra Tie Downs a.k.a Underpasses
Jod Cuff Straps (optional)
Cuff Links (if used)
Hair Accessories
Hair Pins
Hair Nets
Hair Ties
Hair Brush
Contour clips (optional)
Large Bobby Pins
Hair Spray
Hair Bows
v Pocket Pattern (*for equitation riders only*)
Suit (Garment) Bag
Coat
Pants
Shirts
Vests
Ties (bow tie if used)
Hat Box
Hat(s)
Boots
Gloves
Spurs (if used)